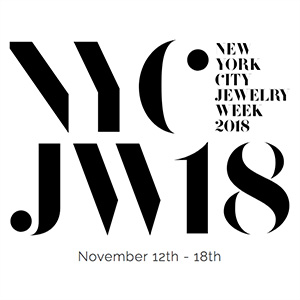 After taking in the Met exhibit on Tuesday, the next stop of New York City Jewelry Week was a panel discussion held at the Fashion Institute of Technology (FIT) titled "Making Your Breaks in Fine Jewelry: Digital Edition." Moderated by Elisabeth Austin, diamantaire and creative director of DiamondRunway.com, included Melissa Dusenberry, creator of AlltheBrilliants.com; jewelry designer Wendy Brandes (who also authors a popular blog); gemologist, consultant, and blogger Erica Silverglide; and Catherine Cason, founder of the media brand @gem_hunt and its companion retail platform @gembreakfast.com.
Kim Nelson, chairman of FIT Jewelry Design, is also talking about how the future of fine jewellery will provide opportunities for new ideas.
Although the purpose of this presentation is for those career paths that want to be consistent with the small group of experts, whether it is designing a successful high-end jewelry collection, developing strong social media, or producing compelling content, there are many comments to intrigue (provocation?) professionals of industry at all levels.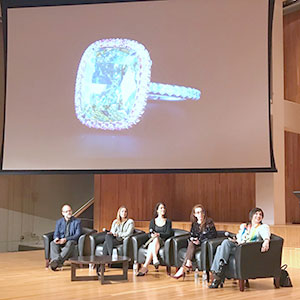 As the discussion title showed, digital technology has took a break to jewelry craft. The biggest controversy lies in the emergence and application of CAD technology. CAD is good...but also bad. "You can learn to create a very sophisticated product digitally quite quickly, but an argument can be made that computer technology is eroding design craftsmanship because it's become the jewelry industry's express key, its push-button product," said Kim Nelson. "avoid being identified by the computer and know whether you are a creative or a technician. If you're going to be a [CAD] technician, make sure you know how to make jewelry. Make sure you understand the product, because you are going to be at the front line of production problems." Design your jewelry with CAD technology, your jewelry will no longer be a unique product but rather than a push-button product. So make sure you really understand how to make jewelry if you are going to be a technician to ensure your jewelry is still unique.
There is no doubt that people like a jewel starting with its beautiful outside look, but to make people loyal to a jewel or a brand must be the love and story infused into the jewel. "We see the most reward for our efforts when we work with a designer to create a custom showpiece and bring people along on the designer and maker's journey," said Catherine Cason. "When people see how much work and love goes into creating the design, I can sell a $5,000 ring in 30 seconds on Instagram. "
Handcraft would never die in jewelry industry, No matter how digital technology develops, we do need a person to inject love and stories into jewelry when it a piece of jewelry or a day's work be done. "There's an urgent need for people who can do the work by hand," said Brandes. "We need people who are great setters and great wax cutters, because there's a swing back to jewelry design made with a human touch."
Waiting for the next stop of New York Jewelry Week. Hope to get more industry information? Please pay attention to TTT Jewelry News.